Pronunciation
Guide to Pronunciation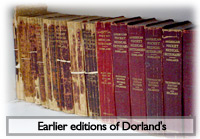 The phonetic spelling is kept as simple as possible, with few diacritical marks; the only special character used is ə, the schwa, used to represent the unstressed vowel sound heard at the end of sofa. The schwa is also used in combination with r in unstressed syllables to represent the sound heard in the second syllable of sulfur or other.
There are four basic rules:
(1) An unmarked vowel ending a syllable (an "open" syllable) is long. Thus ma represents the pronunciation of may.
(2) An unmarked vowel in a syllable ending in a consonant (a "closed" syllable) is short. Thus not represents the pronunciation of knot.
(3) A long vowel in a closed syllable is indicated by a macron. Thus māt represents the pronunciation of mate.
(4) A short vowel that ends or itself constitutes a syllable is indicated by a breve. Thus ĭ-mūn′ represents the pronunciation of immune.
Primary (′) and secondary (″) stresses are shown in polysyllabic words, with unstressed syllables followed by hyphens, as in rep″lĭ-kā′shən. Monosyllables have no stress mark unless they are part of a compound term, in which case each word is given a stress mark for clarity. Thus, broun is used to represent brown, but den′is broun′ is used for Denis Browne splint. Primary stresses are also given as part of the boldface subentries for foreign phrases. However, even in compound terms, stresses are omitted from prepositions, conjunctions and other similar small words.
It is impossible with Dorland's simplified phonetics to represent the native pronunciations of many foreign words and proper names. These are shown as closely as possible in English phonetics.
Vowel Sounds
(For the use of breves and macrons, see the four rules above.)
| | | | |
| --- | --- | --- | --- |
| ə | sofa | ŏ | got |
| ā | mate | ū | fuel |
| ă | bat | ŭ | but |
| ē | beam | aw | all |
| ĕ | met | oi | boil |
| ī | bite | ŌŌ | boom |
| ĭ | bit | ŎŎ | book |
| ō | home | ou | fowl |
Consonant Sounds
| | | | |
| --- | --- | --- | --- |
| b | book | s | sigh |
| d | dog | t | tin |
| f | fog | w | wood |
| g | get | z | size, phase |
| h | heat | ch | chin |
| j | jewel, gem | ks | six |
| k | cart, pick | kw | quote |
| l | look | ng | sing |
| m | mouse | sh | should |
| n | new | th | thin, than |
| p | park | zh | measure |
| r | rat | | |