FAQ
1.
How do I contact Customer or Technical Support?
If the issue you are having cannot be addressed by the answers presented in this FAQ content, for Customer or Technical Support, click on the Contact Us/Support link and fill out the brief form which will enable our Support Team to address your query or direct it to the proper party.
2.
What if I forget my username or password?
Your Username will be the email address you registered with. If you forget your Password, Click on the Forgot password? on the DorlandsOnline.com home page in the Log in box, and follow the instructions provided to retrieve the information. Remember, your Username and Password are case sensitive.
3.
How do I log out of Dorland's Online?
You should log out when you will be away from your computer, especially if you are using a computer in a public area such as a computer center or library. To logout, click on your name at the top of the page and click on "Log out" in the drop-down menu.
4.
How do I change my profile?
While you are logged in, click on your user name at the top of the screen and select "My Profile" from the drop-down list. You can make changes to your profile or change your Password in "Username and Password".. If you need to change your Username/Email address, you must submit a form through the Contact Us/Support link to make that change so that we can verify your identity.
5.
Can I share my individual subscription?
No. Individual subscriptions are to be used only by the subscriber. When you agreed to the Terms of Purchase, you agreed to keep your Username and Password confidential. A link to the Terms of Purchase can be found in the menu at the bottom of the DorlandsOnline.com website.
6.
Is DorlandsOnline.com available for institutional or company-wide use?
Yes. For more information, please contact our sales department: [email protected].
7.
How do I change my choice of subscription period?
If you would like to change the terms of your subscription period (e.g., from a 1 month subscription to a 1 year subscription), before your subscription period ends (You'll receive an email notice of the pending renewal of your current term 1 week before the renewal), cancel your current subscription. Upon your subscription's end, you will have to purchase a new subscription for the new term of your choice.
8.
How do I redeem a discount or trial code?
If you have a discount or trial code, enter it in the field provided during the purchase process. Remember, if you register utilizing a discount or trial code that has auto-renewal, you must discontinue your subscription to avoid additional charges for subsequent auto-renewal periods. Subsequent auto-renewals will be billed at the standard price for the time-frame selected. For trial periods that do not include auto-renewal, at the end of your trial period you must select and purchase the subscription term of your choice to continue using Dorland's Online.
9.
What search engines can I utilize?
DorlandsOnline.com is best utilized by using Microsoft Internet Explorer 8.0 and later, Mozilla Firefox, Google Chrome, or Safari search engines. If you are utilizing earlier versions of Internet Explorer (IE), you may encounter technical difficulties, such as problems utilizing the audio to hear pronunciations.
10.
How do I search for terms?
You can search for a specific term in the Look Up a Term search box. Using the menu to the right of the search box, you can select specific search parameters (e.g., Within terms, Audio). After your search results are derived, you can review associated search results in two different ways:

Related matches—Results in this window include all other entries that include the search term.
Term appears in these definitions—To further assist in locating related terms, this window displays all terms for which the search term appears in the definition

To browse terms you can use the "A-to-Z browser" located below the search box. When you click on a letter, subsets are derived from which you can browse through alphabetical ordered lists of terms.
You can also return to search terms using either the History drop list, which includes your recent searches, or the "breadcrumb" link feature, located just above the definitions, which tracks terms you select within terms (e.g., Related matches, cross-references).
If you are only interested in hearing how a word is pronounced or you would like to browse pronunciations, you can use the Audio Tool located on the right. The Audio Tool enables you to browse or search for specific terms and review the term's pronunciation.
Several supplementary reference resources are available in the Additional Reference Materials section.
11.
What if I don't find a term I'm looking for?
First, if possible, double check the spelling of the word. If you still can't locate your term, consider if there is an alternative spelling, for instance, many British spellings are not included in Dorland's as an alternative spelling (e.g. foetus). If you still cannot locate the term you are looking for and you think the term should be considered for inclusion in Dorland's, please click on the Suggest a Term link and fill in all of the information you can and submit the term for consideration.
12.
Is the information that I supply in my registration form shared with others?
The information you provide is covered in Elsevier's Privacy Policy, and is used to provide you with the best possible service for DorlandsOnline.com. A link to the Privacy Policy can be found in the menu at the bottom of the DorlandsOnline.com website.
13.
What do I do if my account has been compromised?
Contact us right away via the Contact Us/Support link. We will suspend the account and help you regain control of it.
14.
How do I order print copies of Dorland's dictionary products?
You can order online via our bookstore, or by calling 1-800-545-2522. Buyers outside the United States should refer to our international website
15.
Can I request a refund?
Dorland's Online sales are final for the subscription period you have selected. If you would like to cancel your subscription before the next renewal period, you must do so prior to the date of your auto-renewal. You can cancel your subscription via the link in your auto-renewal email reminder, or you can cancel at any time during your current subscription period in "My Account" which is located in the drop-down list at the top of the page when you click on your name. If you have made a purchase in error and would like to dispute the charge, please click the Contact Us/Support link and submit the form explaining why you would like consideration for a refund.
16.
How do I delete my account?
If you need to deactivate your account, please click the Contact Us/Support link and submit the form explaining that you would like to have your account deleted.
17.
Do I get free access to the DorlandsOnline.com dictionary with purchase of the print dictionary?
No. Purchase of the print Dorland's Illustrated Medical Dictionary, 32nd does not entitle access to the online dictionary service provided at DorlandsOnline.com. The free ancillary online dictionary at Dorlands.com will remain available while Dorland's Illustrated Medical Dictionary, 32nd edition remains in print. The medical dictionary at DorlandsOnline.com is only available via subscription sales.
18.
Who can I contact with questions about DorlandsOnline.com?
Editorial questions can be directed to [email protected]. You can also make suggestions about new terms or potential changes to terms via the Suggest a Term link on the DorlandsOnline.com homepage.
19.
What should I do if I can't hear the audio?
Make sure you have your speakers turned on and up to a sufficient volume and that your computer's system sound is not set to mute or too low a volume setting. We recommend using any of the following browsers:

Google Chrome
Mozilla Firefox 10.0 and later
Safari 5.0 or later
Internet Explorer (IE) 8.0 and later.

The audio files should play on IE8; however, if you have installed the Quick Time player on your PC, this may affect the IE8 browser's ability to play audio files. In such a scenario, uninstall the Quick Time player and enable the windows media player ActiveX plugin to play the audio files. The following steps will guide you through the process:
Launch the IE8 browser.
From the "Tools" menu, select "Manage Add-Ons."
From the "Show" drop-down menu, ensure that "All add-ons" is selected.
The ActiveX controls are listed as illustrated in the image below. Select "Windows Media Player" (highlighted blue) in the "Microsoft Corporation" category and then enable the "Windows Media Player" by right clicking the ActiveX control and clicking the "Enable" option.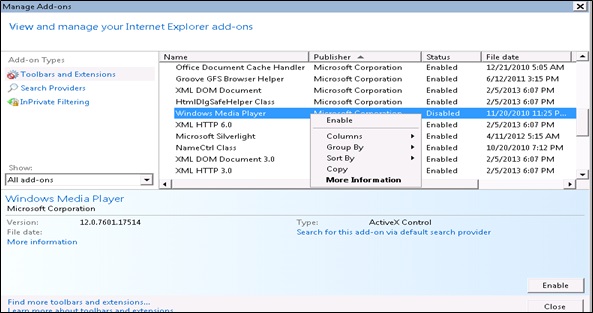 20.
How do I utilize the Browser Plugin?
The Browser Plugin is a JavaScript based link that enables you to quickly access DorlandsOnline definitions using the search function in your web browser when you are logged into DorlandsOnline. To install the Browser Plugin click on the Browser Plugin link and follow the on screen instructions. Click here to know more about browser plugin installation specific to each browser.